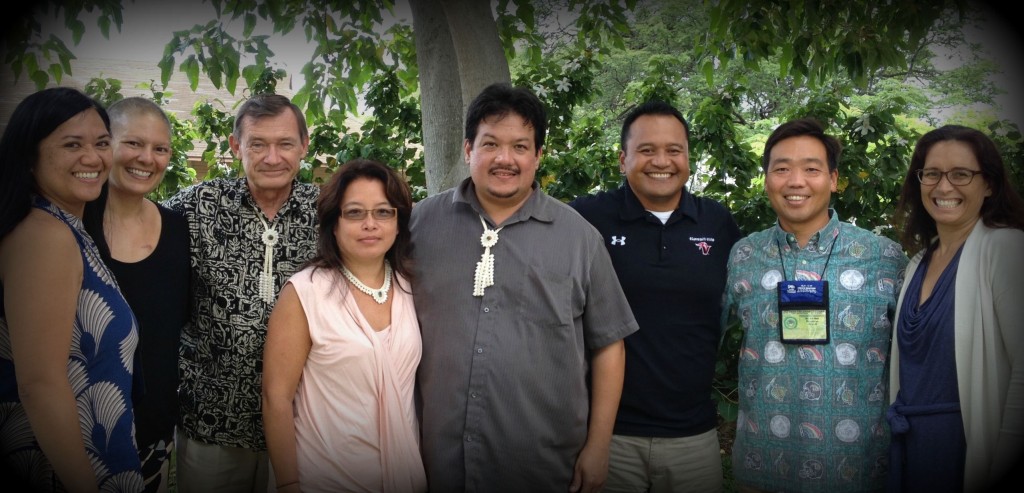 I am blessed to be part of a consultancy team of doctoral students at the College of Education at UH Manoa who are working with several Hawaii-based Micronesian-serving clients on a project to study the feasibility of establishing a charter school focusing on Micronesian cultures, languages, people. Members of our team presented some of our preliminary findings and conducted focus groups with participants of the Pacific Educational Conference in Majuro, Marshall Islands. The team also paid a courtesy visit to Dr. Hilda Heine, Minister of Education for the Republic of the Marshall Islands to discuss the project and ways to collaborate with the country.
(Photo: The team pauses with a photo with their mentor, advisor, director after presenting them with necklace souvenirs from their summer trip to Majuro in July. L-R: Kaleihoku Kalai-Aguiar, Natalie Nimmer, Dr. Dan White, Dr. Mary Hattori, Dr. Jeff Moniz (Ed.D Director), Vid Raatior, Ed Noh, Jerelyn Watanabe).
Project Title:
Feasibility Study for the Establishment of a Micronesian-Focused Charter School
Clients
Guiding questions:
How best to serve educational needs of children with ties to Micronesia and who live in Hawaii. The value of culture-based education and its forms.
Background:
The year-long consultancy project is in partial fulfillment of requirements of the U.H. College of Education's Ed.D in Professional Practices, a program in consortium with several other universities nationally through the Carnegie Project on the Education Doctorate (CPED). It requires that several groups of four or five doctoral students tackle a problem of practice on behalf of a client, such as a school or school complex.
Professional Practices doctorates aim to develop leaders who are informed, critical and creative, and who are skilled in the application of knowledge to problems of practice. The consultancy project provides opportunities to apply those skills in a collaborative venture with public and private school clients. Each group is supported by a UH Faculty member and an experienced educational leader called a field mentor.
This consultancy group includes:
Three charter school educators, one of whom is Native Hawaiian.
One educator, experienced in teaching in the Republic of the Marshall Islands who is now working with charter schools through HAIS and Kamehameha Schools.
One UH Hilo educator born and raised in Chuuk whose professional work is with Pacific Islander students and consults on Micronesian educational and leadership projects.
UH Faculty Advisor, a Chamoru born and raised on Guam, who is the Outreach Director of the Center for Pacific Island Studies at Manoa and whose dissertation, completed in the first Cohort of this program focused on the education of children from Micronesia.
Field mentor is the retired founding headmaster of an independent school with experience as a consultant to independent schools.
Key points:
The research is on-going. It started with a search of the literature regarding Micronesian nations and other culture-based educational programs.
The project is about feasibility, not the actual founding of a school.
The consultants are exploring a range of programs that might provide needed educational services to children and families who live in Hawaii's Micronesian communities.
The consultants have met with focus groups on three islands to understand better the viewpoints of parents of children who live in Hawaii's Micronesian communities.
The consultants have met with the clients to understand their perspectives and aspirations.
The product will be a report to the clients in December 2015.
The Team:
Faculty Advisers