Raatior Ventures is the virtual office for Vidalino Staley Raatior, an educational consultant, social entrepreneur, citizen journalist, web designer, and international educator. While Vid lives in Hawaii, his roots are in the Pacific island nation of Micronesia.
Programs & Services
Raatior Ventures is home to a diversity of projects and services to support education, healthcare, community development, and economic empowerment in Micronesia.
About Vid Raatior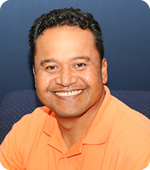 Vidalino Staley Raatior is an educator.  While his roots are in the outer islands (fanapi) of Chuuk, Vid now lives in Hilo, Hawaii where he serves as the Director of the Pacific Islander Student Center at the University of Hawai'i at Hilo to help Pacific Islander  students succeed in higher education. Previously, he served at Santa Clara University as Assistant Director for International Programs and Associate Director for the Center for Multicultural Learning. Prior to that he was a classroom teacher and Assistant Director at Xavier High School in Micronesia.
Vid is also a social entrepreneur. He is the founder of the Fanapi Foundation to help raise funds and provide technical assistance to my people in the outer islands of Chuuk, founder and principal designer for Atawe [web] Design to help nonprofit organizations in Micronesia to get access to global resources, serves as the educational consultant for the Northwest Unified Schools, and co-founder of the Micronesia Dental Support Project to bring volunteer dentists to operate free community dental clinics in Micronesia.
For more information, visit his personal website: www.vid.raatior.com