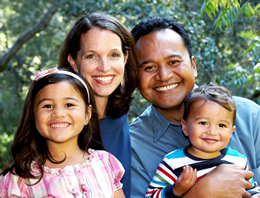 Vidalino Staley Raatior (formerly Vidalino Jones) is a devoted dad and husband, member of the Pwaraka and Alengeitaw clans, a former Jesuit, an international educator, consultant, web designer, citizen journalist, and social entrepreneur from the Northwest region in Chuuk State, Micronesia. While he lives in Hilo, Hawaii, he is deeply rooted and involved in his home country of the Federated States of Micronesia specifically in finding ways to help the poor and isolated outer islands of Pattiw, Namonweito, and Pafeng. If you care to dig deeper, you can read his reflection piece titled, "In Search of What Matters to Me & Why."
Frequently Asked Questions
Below are some of the questions I've been asked when meeting people for the first time. Hopefully you can read them now so we can focus on your story.
"Really? You Micronesian?"
Yes, I'm a proud Chuukese and Micronesian! I born and raised in the Northwest outer islands of Chuuk State, Federated States of Micronesia. My extended family from the Pwaraka clan originated from Tamatam in the Pattiw region while my paternal clan of Alengeitaw has its history on Onoun in the Namwonweito region. My family moved to Houk Island (formerly called Pulusuk) where I grew up most of my young life raised by my father figure the late Urupwulo.
"What brought you to the US?"
Life was wonderfully simple on Houk island until the winds of change and the promptings of faith propelled me away in pursuit of adventure, education, and a Jesuit formation. I left Houk for the first time back in the late 70's in pursuit of an education and haven't really stopped.
"Where did you learn to speak English?"
I am the product of the Chuuk State public school system. I graduated from Houk Elementary, Northwest High School (formerly Weipat Junior High School) on Onoun Island, and Chuuk High School on Weno Island. While that educational system failed to adequately prepare me for college, its shortcomings did force me to work harder at succeeding. I learned English from watching and imitating television shows throughout college and graduate schools. After graduating from the University of Guam with a bachelors degree in communications, I studied for two years under the late Fr. Felix Yaoch, SJ at the Manresa Jesuit Novitiate in Palau before going on to graduate school to study philosophy at Fordham University in New York, theology at the Jesuit School of Theology at Berkeley in California, and educational administration at the University of San Francisco. Today I am a doctoral student at the College of Education program at University of Hawaii at Manoa.
But my most impressionable years of learning happened during my ten years as a Jesuit scholastic in the New York Province in the Region of Micronesia. I owe everything I am today spiritually, intellectually, socially, politically, mentally, and vocationally to the formation I received as a Jesuit. Though I am happily married to Desha who I met a year after I left the Jesuits, I am still a Jesuit at heart…once a Jesuit, always a Jesuit.
"So what do you do for a living?"
Sometimes I wonder why I left the simplicity of life on Houk where there is no electricity and running water, but we fished and worked the soil to sustain our needs and live one day at a time. Now, here in the U.S., we seem to live to work in order to upgrade to the latest fad…a never ending quest for a complicated life.
I've been very blessed to have a diverse work history in education, web design, social entrepreneurship. Currently, I coordinate the Students of Hawai'i Advanced Research Program (SHARP) at the University of Hawaii at Hilo after serving as director of the Pacific Islander Student Center also at UH Hilo.  Previously, I worked over 10 years as the Assistant Director of the International Programs Office and Associate Director of the Center for Multicultural Learning at Santa Clara University. I had also worked for a number of years as a teacher and administrator at Xavier High School in Chuuk, FSM.
"What else do you do when you're not at work?"
I love spending time with my family. When I have a moment or two to sneak away, you can find me working on any number of my social enterprises which which do not pay my bills, but they do keep me rooted in the needs of my people in Chuuk. You can always join me here:
Doctoral Studies:  I am blessed to be accepted to be the only Micronesian in an awesome cohort of educators who are in the Doctor of Education (Ed.D) program in Professional Educational Practice at the College of Education at University of Hawaii at Manoa. You can find me studying on most Sundays at the Starbucks at Kuhio Mall in Hilo. Donʻt be afraid to stop by to say hello. Or visit my Raatior Reflections blog on this journey>
Kiva Lending Team – Join Aloha Kiva Kids, the Kiva lending team that my daughter Keala founded to lend her piggy bank money to borrowers from Kiva's long list of global entrepreneurs. Join our Team on Kiva>
Atawe [web] Design – If you're a web designer with a desire to help non-profit organizations in Micronesia, join me on Atawe Design, the home-based web design venture to empower social change movements in my home country of Micronesia. Visit website>
Chuuk Reform Movement – Join the coalition of Chuukese citizen-activists globally and locally who advocate for change in the political system back in Chuuk, Micronesia. I focus my energy specifically in the Northwest Election District of Pattiw, Namonweito, and Pafeng, but you can advocate for your own region. Visit website>
Fanapi Foundation – I founded this US-based non-profit organization aimed at raising funds and providing technical assistance to the outer islands (fanapi) of the Northwest region in Chuuk in the areas of educational improvement, healthcare, community development, leadership training, and public benefit business opportunities. Feel free to donate via our fiscal sponsor, the United Charitable Programs based in Virginia.  Visit website>
Fanapi CARE – If you're a dentist or in health-related fields and wish to volunteer, join our US-based non-profit initiative aimed at helping the dental care needs of the impoverished children in the outer islands of Micronesia. Visit website>
Santa Cruz WordPress Meetup –  For the geeks who wish to learn from other smart geeks, join the Meetup I founded for web designers, programmers, and developers in Santa Cruz County who use the open source software called WordPress to design websites for their clients. The Meetup continues to meet once a month in Santa Cruz.  Join the meetup >
"How do I get in touch with you?"
You can always…