"Education is a human right with immense power to transform. On its foundation rest the cornerstones of freedom, democracy and sustainable human development."- Kofi Anan, former U.N. Secretary General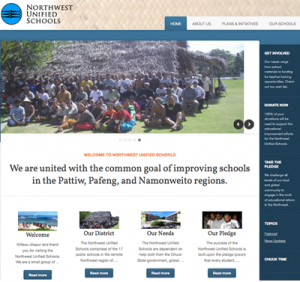 Educational reform is urgently necessary throughout FSM, but more so in the outer islands. Like a failing heart that needs CPR, the outer islands of Chuuk, Micronesia need innovative ideas to solve deep rooted educational problems. Our goal is to empower a new generation of leaders to improve educational output in the most impoverished communities.
Northwest Unified Schools
Raatior Ventures provides pro bono educational consultancy for the Northwest Unified Schools (www.northwestunifiedschools.org) which are at the greatest disadvantage due to inaccessibility to educational resources. Our approach centers around global partnerships with individuals, organizations, schools, businesses to lead programs and services aimed at helping children in the developing outer island communities of Micronesia.
"Education is the most powerful weapon which you can use to change the world." – Nelson Mandela.
vision
A Micronesia in which children in the most impoverished local island communities have the resources and well trained teachers and principals  who can help empower them to help themselves.
mission
To build the competencies of Chuukese educators and leaders who will be agents of educational reform in the Northwest Unified Schools.
goals
coordinate and direct a Northwest Educators Summer Training (NEST) program to train the teachers and principals from the Northwest Unified Schools.
build capacity and resources for schools in the outer islands to become self-sufficient
create volunteer opportunities for outer island college students to help our schools in the outer islands.
build opportunities for a new generation of Micronesian educational reformers using best practices in public and private educational models including Xavier High School,  Teach for America, KIPP Charter Schools, Jesuit Volunteer International, and other successful school systems.
provide funding for educational scholarships for academically qualified needy students from the developing outer island communities in Micronesia.
solicit books, educational resources to send to the needy schools in the outer islands of Micronesia.
collaborate with other educators to provide educational leadership training to schools in Micronesia.
offer community-based service learning opportunities for students in developed countries to help disadvantaged children in the outer islands of Micronesia.
provide funding for and technical training to projects that benefit people in the developing island nations of Micronesia.
Website: www.northwestunifiedschools.org