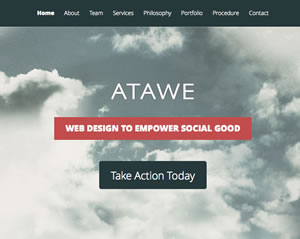 Raatior [web] Design (aka Atawe) is a website design project focusing on the empowerment of non-profit organizations, grassroots community movements, social activists, schools, and small businesses in the developing Pacific island nation of Micronesia and beyond. Our motto is "Empowering Social Good." Although we are open to helping all non-profit organizations, we aspire to help the needy organizations and small businesses in the Pacific islands of Micronesia.
belief
We believe that web technology can be used to bridge local needs in the Pacific with global resources.
vision
We envision a world in which all people, organizations, and governments  are respected, resourced, and empowered for a just and equitable world.
philosophy
Our design philosophy goes beyond simple and functional web designs; we focus on building partnerships that foster sustainable self-empowerment of people who themselves are agents of change in their local communities.
Website: http://www.design.raatior.com