We believe that web technology can be used to bridge local needs in the Pacific with global resources.  Our vision is to empower nonprofit organizations in Micronesia to harness technological advancement to help them fulfill their mission to improve lives.
Atawe Design – web design to empower social good
Atawe Design is a website design venture focusing on the empowerment of non-profit organizations, grassroots community movements, social activists, schools, and small businesses in the developing Pacific island nation of Micronesia and beyond. We pride ourselves in providing quality and affordable web design services for our clients empowering them to access global resources. We believe that these small developing Pacific island nations have a rightful place in the vastly globalized society. While having a website does not in itself solve their problems, we believe it does give a voice and a channel by which the local needs can be connected with the vast array of global resources.
Atawe Design was inspired by the Pacific island value of humble service. The name, Atawe (a-tah-way), comes from the outer island Chuukese language meaning "to empower others." Although we are open to helping all non-profit organizations, we aspire to help the needy organizations and small businesses in the Pacific islands of Micronesia.
We invite you to review who we are, our design philosophy, our variety of services, our featured portfolio,  contact us for a no-obligation consultation to determine if we are the right partner for your web development needs.
our mission
Atawe Design was founded with the mission of using web design to help connect the local needs of non-profit organizations in Micronesia with global resources.
our portfolio
Here's a sample of our web design projects:
Dale Kietzman School of Theology
I was contacted by a Reina, a Chuukese living in Southern California and a volunteer for the Pasadena-based Dr. Dale Kietzman School of Theology. They had a limited budget to get a new website designed for a new campus that is opening up in another state. They had five days to get it designed and launched. I was moved by their sincerity and commitment to global peace through the theology school. Even with a limited budget, we were able to help design and launch their website in exactly 5 days.
URL: www.dkacademy.us
Northwest Unified Schools
The Northwest Unified Schools is an innovative community school system aimed at changing the culture of low performing public schools in the remote outer islands. They are a collection of 17 schools in the remotest part of Chuuk State in the Federated States of Micronesia; namely, the Pattiw, Pafeng, and Namonweito islands with approximately 1,328 students in elementary, junior high, and a high school.
URL: www.northwestunifiedschools.org
Fanapi Center
Fanapi, [fan-ah-pee], literally translated "lands of the sand"  is the Chuukese name for all the low-lying outer islands located beyond the Chuuk lagoon.  This website was built to support the movement to start a nongovernmental organization (NGO) called Fanapi Center that will be locally based, locally chartered, locally led, and locally supported with the goal of centralizing the services for people from the outer islands specifically the Northwest regions of Chuuk State, Federated States of Micronesia.
URL: www.fanapi.org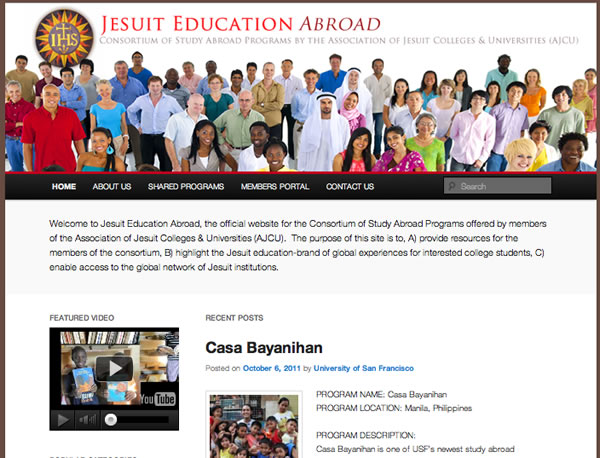 Jesuit Education Abroad
The Jesuit Education Abroad website is the official website for the Association of Jesuit Schools & Colleges study abroad programs. It was created to support the 28-member institutions in the United States that belong to the American Jesuit schools. This is a good example of a website in which a representative of each member school is given secured access to maintain their particular program website without affecting other institutions program site.
URL: www.jesuiteducationabroad.org
Xavier High School
The school needed a website to match its new directions, leadership, and renewed commitment to excellence. The project involved designing an entirely new website while matching its content with the school's self-study report for its Western Association of Schools & Colleges (WASC). The site is also linked with several social networking websites such as Facebook, Twitter, YouTube to connect the alumni with the latest developments on the campus.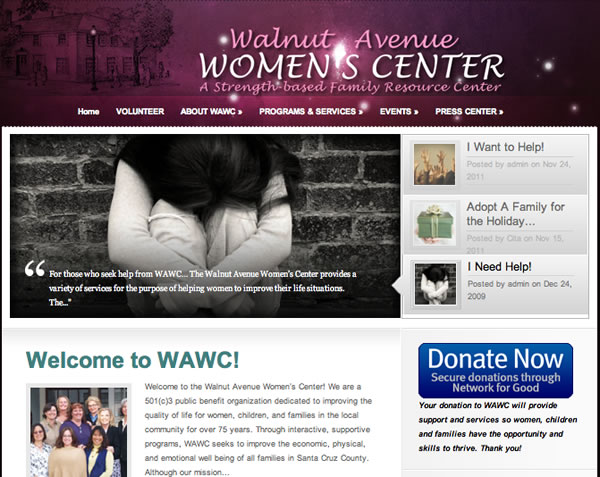 Walnut Avenue Women's Center:
The WAWC is a "public benefit organization dedicated to improving the quality of life for women, children, and families in the local community for over 75 years. Through interactive, supportive programs, WAWC seeks to improve the economic, physical, and emotional well being of all families in Santa Cruz County."
URL: www.wawc.org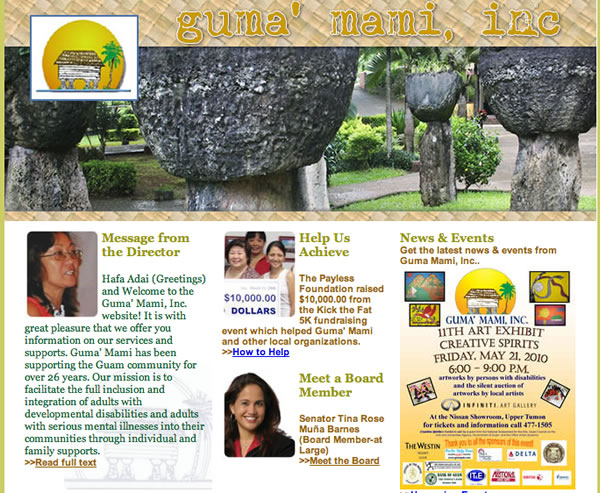 Guma Mami, Inc.
Guma Mami, Inc. is a non-profit organization in Guam whose mission is to support, enhance and improve the quality of life of persons with disabilities. They needed a dynamic website in which to keep donors informed of the latest news and information and to solicit help from potential donors.
URL: www.gumamami.org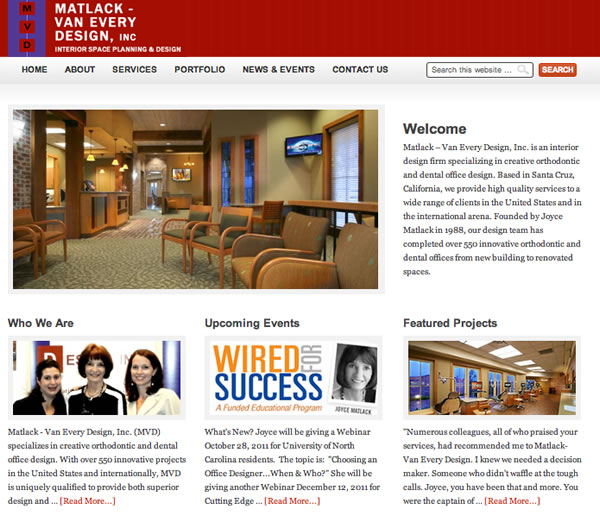 Matlack-Vanevery Design
This is an interior design firm specializing in creative orthodontic and dental office designs. Based in Santa Cruz, CA, the small business needed a complete overhaul to keep up with its national and international success. The project involved an entirely new web design which compliments its branding and upbeat, modern, and hip design philosophy. URL: www.matlack-vaneverydesign.com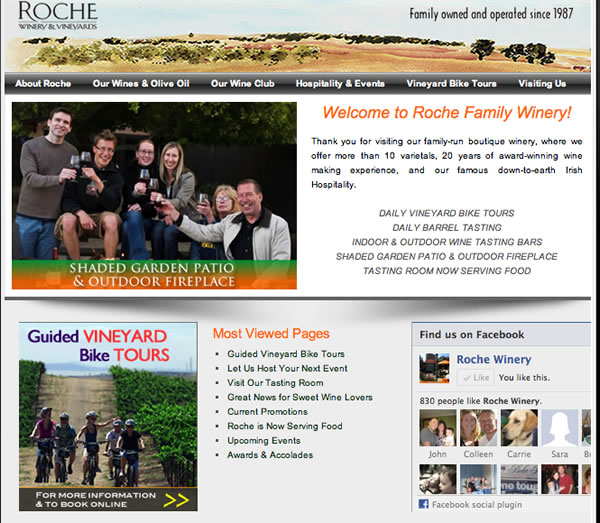 Roche Winery
Managed by Brendan Roche, the winery needed a new professional-looking website that is accessible to its customers. The project involved working closely with the marketing department to design a website that closely matches the overall branding and marketing plans for the company. It included the designing of graphics and images that are found in their printed literature.
URL: www.rochewinery.com
our services
Are you looking for a socially-conscious designer who understands the challenges and effectiveness of non-profit organizations? Atawe Design's philosophy goes beyond simple and functional web designs; we focus on building partnerships that foster sustainable self-empowerment of people who themselves are agents of change in their local communities.
Our services range from building a completely new website to redesigning current websites to meet your new goals and needs. Whatever the budget, timeline, and needs, Atawe Design will work with you to design around the client's realities. Atawe Design is built around the belief that any non-profit organization or small companies can access global resources through a website. We have the skills and commitment to deliver more than the average web development services offered by most other web design companies. Our promise of service include but not limited to the following:
our design philosophy
Our design philosophy goes beyond simple and functional web designs; we focus on building partnerships that foster sustainable self-empowerment of people who themselves are agents of change in their local communities.
Simplicity
We believe that web design is only the tool to get our client's mission across to the global community. Therefore, we keep the web design simple to prevent the design from overpowering the message itself.
Functionality
We focus our design on simplicity, elegance, and functionality. When people like what they see, not distracted by plug-ins and time-consuming downloads, and easily find what they are looking for, we consider that a successful design.
Affordability
We understand that non-profit organizations have varying degree of financial challenges, but we do not believe in handouts so our rates are affordable based on the complexity of the project and our partners' financial reality.
Empowerment
We consider it a privilege to share in the mission of empowering a client to the global community. Revenues generated from every project goes to fund other worthy causes in Micronesia.
Partnerships
We believe in building partnerships for a more equitable global community. We challenge clients in more developed countries to share resources with others in less developed countries such as Micronesia.
Sustainability
Our commitment to our partners continues long after a project is completed and a website has been launched. We work ourselves out of a job by providing on-going professional development for local staff to help maintain their own websites.
Humor
At the end of the day, we only have one life to live, one world to share, and very little time to enjoy both. So we live it fully, make responsible decisions, and laugh at ourselves a lot.