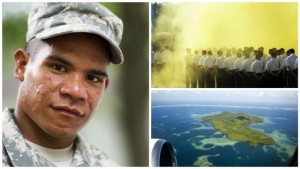 I invite all my friends, colleagues, and family near and far to support Island Soldier, a film documentary project that was recently launched on Kickstarter. Directed by my friend Nathan Fitch, former Peace Corps Volunteer in my country of the Federated States of Micronesia (FSM), Island Soldier is "a feature-length documentary that tells the personal stories of young Micronesian soldiers serving in the U.S. military. The film follows them from a remote island in the Pacific to boot camp in the U.S., an outpost in Afghanistan and back."
I agreed to serve as a pro-bono Cultural Advisor on this project because I believe in the film's potential in educating the world about Micronesia's little known contribution to the United States as a positive element of the Compact of Free Association (COFA) treaty with the FSM, Republic of the Marshall Islands (RMI), and Republic of Palau. Under the terms of the COFA, our 3 nations give the US certain strategic military control over our territories. In return, the US grants COFA citizens the ability to enter the US without a visa to live, work, get an education, seek healthcare, and serve in the United States Armed Forces.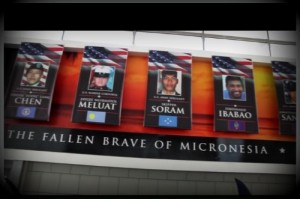 Our Micronesian citizens in uniform have sacrificed their lives alongside their US comrades at a greater rate. According to one account, "FSM has suffered more casualties in Iraq and Afghanistan per capita than any US state, and has lost soldiers at a rate five times the US average." Yet, because they are not citizens they cannot become commissioned officers.
Island Soldier will help shed light on this part of our Micronesian community story. We owe a debt of gratitude to Nathan, Bryan, and the rest of the creative team for their commitment to tell our story. It is our story; they are simply telling it on our behalf because culturally we Micronesians value humility. You won't find too many of our island women and men in uniform boast about their bravery, selflessness, honor, and sacrifices.
Island Soldier is not just about the young men and their families from Kosrae who are in the film.  It is about the story of the Micronesian mothers and fathers who have lost their children in combat. Perhaps the film will start conversations about the Micronesian veterans who are quietly suffering from post traumatic syndrome disorder (PTSD) in their villages back home without a nearby Veterans Hospital.
Ultimately, I believe the story needs to be told for the sake of all the women and men in uniform who continue to courageously serve as citizen ambassadors of our COFA countries. They may not speak up for themselves, but it means that those of us who have the capacity to tell their story must do so respectfully, generously, honestly, courageously. You can join the community to help us tell the story.
How to Help
We are reaching out to all of our friends to help us raise $35,000 to unlock a $50,000 matching grant from the Pacific Islanders in Communication (PIC). So far $15,000 has been raised leaving us $35,000 short to complete the final production schedule. Please visit our Kickstarter page, view the video from Nathan and Bryan which includes some highlights of the film. If you are moved to do so please consider donating $5, $10, $25 or whatever you can give to help get this film completed.
Share the Kickstarter (https://www.kickstarter.com/projects/1738241852/island-soldier-micronesians-fighting-in-americas-w) on your Facebook, Twitter, at your churches. Help us tell the story.